Proper lighting is important in so many aspects of life. We need it to stay productive and alert while working in a home office, soft and subdued as we unwind and relax in a family room, and bright and focused in a kitchen as we compile ingredients for a delicious meal. In a home theater, a similar philosophy applies. Lighting can evoke a sense of drama and excitement, enhance the overall design theme, and direct attention to the big screen when appropriate, as it downplays the appearance of other components and accouterments. Be it sleek and modern or classic and sophisticated, every aspect of a home theater can benefit tremendously from a well-designed and choreographed lighting scheme.
Most luxury home theater designs are influenced by a particular style or genre — Art Deco, Old-Hollywood glamour, Gothic, Italian Tuscan, Modern/Contemporary, or fully thematic — the sky's truly the limit. Materials, furnishings, and fabrics help impart the intended look and feel, and so should the lighting. In fact, when applied appropriately, lighting not only fits into the chosen design scheme, but emphasizes and accentuates it. Colors are more realistic, textures are more defined, and depth and space take shape, making the whole room feel more authentic. Through a combination of design and lighting, the room elicits an emotional response from visitors the second they step inside — the perfect segue for the AV experience that's about to unfold.
AV, DESIGN, AND LIGHTING: A TRIFECTA EFFECT
In the custom installation world, there's a propensity to do things one-off; to do as much of the work as possible in-house. That's been a great way for integrators to do business for a long while, but in today's world — where margins are diminishing and timelines are expected to be short — why not focus on what your firm does best and bring in pros from adjacent trades to execute the overarching vision?
Certainly, professional interior and lighting design adds cost, but when presented with the possibilities, homeowners craving a luxurious and one-of-a-kind entertainment environment appreciate and are often willing to expand the budget.
Elevations, sightlines, and equipment and seating locations, as well as finishes, fabrics, materials, and other extras, are all considerations that interior and lighting designers together will incorporate to specify the appropriate fixtures and locations, as well as color temperatures and brightness levels to enhance the room's visual appeal.
Here's an example of this level of professional collaboration, based on a recent project by my firm, Slayman Cinema: By coordinating efforts with a lighting designer we were able to create the illusion of a room lit only by candlelight for a home theater intended to make guests feel as if they were entering a castle of the 1800s. Fixtures were concealed within the room's architecture and the color temperature was dialed down to 1200K. The effect transported viewers to a different time and place — even before the movie started.
Moreover, the subtle glow emitted by small LED tape lighting placed around the perimeter of arches brushed over authentic horsehair fabric covering speakers. For added visual appeal, indirect illumination from LED strip lighting grazed the theater's stone walls, emphasizing the color and texture of each rock. Throughout this process we worked in lock-step with the AV integrator to make sure our designs would mesh with his. By tackling these three pillars — interior design, lighting, and technology — as a whole rather than separate parts, we created a cohesive solution for a stellar home theater experience.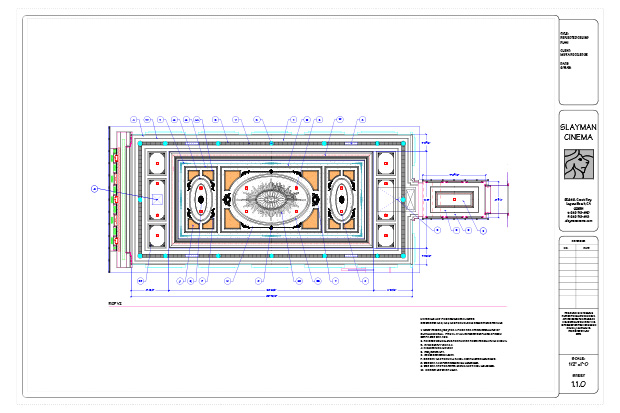 OFF-BROADWAY AND INTO HOME CINEMAS
Illumination is more than just a mood setter. It can take a home theater to the next level by imparting a host of special effects, as well as practical benefits. For example, LED strip lighting tucked beneath the nosing of steps can lead guests to their seats, and lining a ceiling cove can provide soft, diffused general illumination. Meanwhile, colored LED lighting can make the space feel more festive, cool, and modern, or warm and inviting, depending on which hue or temperature you choose. And think about how the lights in a Broadway theater can turn a bare wall into a lively cityscape. What once required a mural to convey can now be accomplished with lighting. These and other effects are possible to portray in a home theater, as well, offering a unique way to differentiate your theaters from others.
CREATING THE ILLUSION
When most people think about lighting, sconces, recessed cans, and other conspicuous sources spring to mind. These components, unfortunately, can prove a visual distraction in a home theater. Fortunately, today's lighting technology enables light sources to be recessed into walls, ceilings, and other parts of the room, rendering only the projected light visible. Illumination magically appears to sculpt the seating, graze the walls, and lead eyes to the main attraction while transporting movie-goers to a different time and space.
The addition of a professionally designed lighting system can take a home theater to the next level of luxury and sophistication and differentiate your home theaters from your competition. To learn more about the role of a lighting designer in high-end home theater projects or to find a lighting designer in your area, give us a call, drop us an email, or reach out to industry associations such as the International Association of Lighting Designers (IALD) and the American Lighting Association.
With more than 20 years of experience designing luxury home theaters for high-end properties around the globe, plus an extensive understanding and appreciation for AV technology, Lisa Slayman, ASID, IIDA, of Slayman Cinema and Slayman Design Associates is a valuable resource for home systems integrators, and home and business owners. Providing scrupulous end-to-end service, Slayman Cinema works with an exclusive clientele who are carefully selected and often, identity-protected to ensure complete project privacy. Several of Slayman's projects have won awards, including one for CEDIA International Best Overall Home Theater and another for the Best Sports Arena in North America.
This article was originally written for https://www.residentialsystems.com/features/theater-design/illuminating-ideas-for-a-better-home-theater-design