Back in the day, a high-end home entertainment experience for many luxury homeowners likely meant a dedicated room that housed a projector, a large screen, surround sound and/or a VCR and DVD player.
Today, home theater and home entertainment have evolved light years from the example from above. Many peoples' idea of home theater today realistically involves AV gear in a room that hosts several activities beyond watching TV or movies. Over the past decade gaming has also surged in popularity and during this period, gaming systems have grown rapidly in sophistication to rival streaming media and lossless AV content delivery systems.
Arguably the culmination of modern home AV sophistication that includes gaming is coming from the custom designs of Lisa Slayman of Slayman Design and Slayman Home Theater. Working with partners such as Nerve Park City and Trackman Golf, Slyman is catering to luxury homeowners through her design expertise and the expertise of her company's partners to produce state-of-the-art home entertainment systems that are highlighted by her multipurpose gaming gaming rooms.
E-Sports Drive Interest in Gaming Rooms  
Slayman's technology integrator is Todd Astill of Park City, Utah-based Nerve Park City, and Astill asserts that it's only been recently that E-sports have become desirable for the luxury home market.
"E-sports, I would say, it was very niche as recently as five years ago. We've seen in the professional realm, it's a huge tool, we have clients that want to train on a specific [golf] course," notes Astill.
"Gaming has penetrated every generation. As adults we continue to game competitively or for fun. Golf simulators, clients were asking if they could compete in tournament. Now it is an expectation, and it is in more demand. They see an opportunity to train at home in golf or gaming in general. It's become a social experience, or even with VR [virtual reality], they do VR and others in the room will watch what is going on and take turns."
Slayman points out that initially she did not understand the allure of gaming and solutions like golf simulators. She continues that over time she learned about the gaming market and how these systems can fit into the modern home entertainment equation as gaming rooms.
Now Astill says gaming and solutions like golf simulators have become more of a priority for homeowners. In the past he notes games weren't up to the standard of home audio surround sound even though the graphics looked good. With the maturation of gaming technologies, today, younger, and older gamers can get together to game to make modern gaming a more social experience.
Slayman emphasizes that working with Astill enables her to fully realize her company's design and system goals.
"I surround myself with people that know the material. I pride myself on knowing technology, I love how technology moves, and it's the world I've chosen to get into," Slayman points out. 
"I have to keep reading and learning. Having Todd, I can integrate his desire and wants and integrate that into designs that are harmonized. Aesthetically it looks fantastic, there is not stuff laying around the room. We are on the cutting edge of it. They don't have a feel of the capabilities of it and how these technologies can enhance their lives."
Catering to the growing diversity of the gaming market, Astill says that homeowners not only have plenty of computer gaming and console gaming solutions at their disposal, but they also have new solutions like golf simulators. The benefit of these golf simulators is they support the golfing community and their ability to practice in non-traditional ways.
Michael Manning of Trackman Golf emphasizes that golf simulators are a great way for those new to the hobby of golf to work on their skills without having to leave their homes.
"You are having a much more dynamic experience, it is an active, physically that is challenging mentally and physically whether you are eight or 80," states Manning.
"It is a great environment for a beginner to learn. It's the best possible environment to spend your time."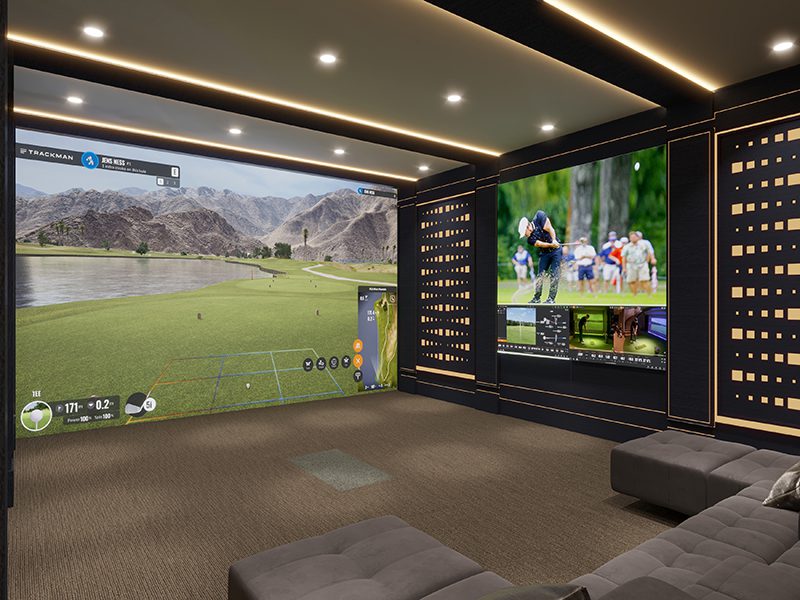 Discussing the topic of golf simulators with her clients Slayman comments the feedback she has received has been enthusiastic towards ideas of bringing these systems into home spaces.
"I've talked to a few clients. They think it is incredible way to use a home space," she recalls. 
"They had no idea you could do all these things in that space. I've done theaters and it they didn't know it existed … I didn't even know what Trackman is. This is a new direction for me as well. In general integrators and people have not thought about it and they don't understand what they can do with these spaces and how happy these systems can make people."
She continues by noting that in a multipurpose type of rooms like these gaming rooms bring families and friends together. In a single room Slayman stresses that homeowners for example can watch a movie from their Kaleidescape system or they can practice or play a round of golf. Slayman says that a growing number of homeowners would love to own these types of systems and the key is simply to educate consumers about the possibilities that exist.
Underscoring Slayman's point, Astill says the home gaming market and how people entertain themselves is evolving rapidly.
"One of the reasons that dedicated theaters have not been interesting to gamers is the technologies have not been conducive to gaming. The 2.1 format means that our projectors and other components can interface with consoles and gaming PCs. The tech is … consumer electronics are more capable now," he opines.
"Every generation spends more time on small screens and we are competing with that. These activities such as golf simulators and VR [virtual reality] have not penetrated the market in the large way but they are gaining momentum. Beyond that, it changed our culture, something like Pelloton changed our culture. The same scenario is happening with Trackman Golf. I remember kids got excited about Wii Tennis, but in a simulator, you can simulate a real experience."
Assembling a State-of-the-Art Home Space
Astill notes that earlier generations of home theater were not conducive for a full-throttle gaming experience for homeowners. As technologies such as 4K, HDR, immersive audio and the HDMI 2.1 have come to market however, modern home theaters are full capable of supporting a competitive gaming experience.
Slayman points out that modern electronics, including today's home-friendly projection screens, as well as lighting and other components complement a home's design elements.
"Aesthetically, there must be balance so there is a feel that you want to hang out in this room—so the room is inviting. There are all these elements that you either want to stay in that room or you don't," she stresses.
"It is comfortability, accessibility, and proper space planning. I think visually, you are comfortable color wise, seating wise, how much seating you want, where you want the seating. Are you going to watch movies … are you going to have Dolby Atmos? Acoustics are important. Some people are fine with lesser levels of acoustics, while other people want amazing levels of acoustics. It is all those elements that are part of putting these rooms together."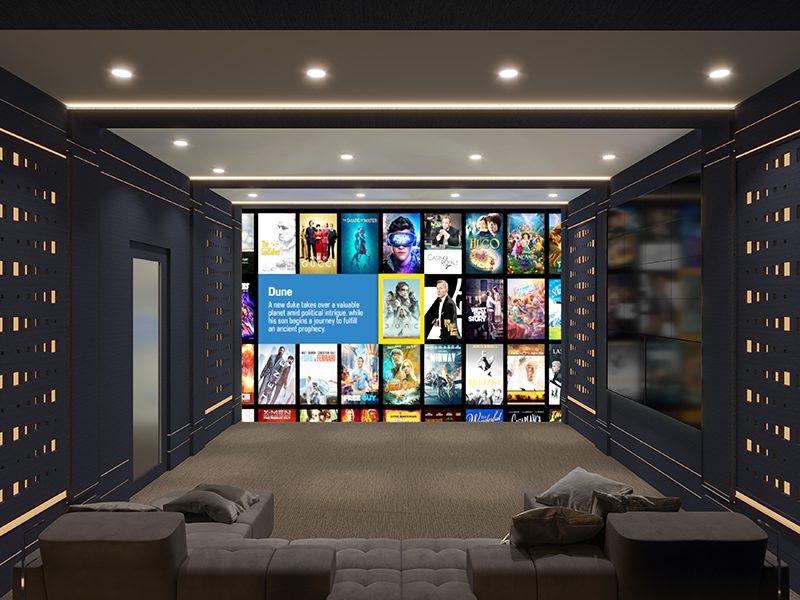 Another important item that Astill says that integrators need to consider is the type of gaming activities that will occur within multipurpose gaming rooms. He says that for example, if there is a golf simulator going into the room there needs to be enough space for homeowners to fully swing their golf clubs and drive their golf shots.
"It's about identifying the swing arc and the ball flight direction and containment. Then you can design the rest of the environment to assist with the other goals of the space," he says.
Accentuating just how the home gaming market and gaming rooms are maturing and solutions like golf simulators are becoming increasingly important, Manning says that a growing number of golf simulator owners are training on their systems to get ready for tournaments. Astill and Manning state that golf simulators offer users the ability to train on specific, famous golf courses to qualify for events.
"Practicing in virtual environments provides an option they might not be able to get. Such as the ability to play Tacoma Country Club to get ready for that event to qualify to get into the U.S. Open," says Manning.  
"But they can play it on a Trackman simulator."
Beyond traditional PC and console games, Astill says that more clients are becoming interested in virtual reality (VR) games such as Superhot and Beat Saber. Many clients are also interested in popular gaming titles such as Fortnite and Call of Duty. Kids he also notes remain interested in classic games like Minecraft.
Not surprisingly, he adds that most of his clients are expressing interest in golf simulators for their gaming rooms.
"Every client has told me they are going on a golf trip, and they will ask if a specific course in the software, is it accurate," he concludes.
"Clients will ask, 'can I prep for the course?' You don't need to be a pro golfer; you can be an amateur and prep for a course that you are going to play using golf simulators."
Re-posted from CEPro by Robert Archer